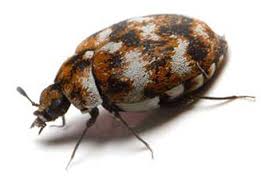 Several species of carpet beetles enter houses. None as VCB s The adult black carpet beetle is dull black with brown legs. Adults of other species of carpet beetles (Common Carpet Beetle, Varied Carpet Beetle) are mottled with white, brown, yellow or black. Carpet beetle adults are about one eighth of an inch long. They fly readily and are attracted to light. Many of the adults feed on flower pollen. Carpet beetles breed and feed outside on dead animal material and in bird or rodent nests of dropped feathers and hairs. Old wasp nests under eaves and in attics may also serve as carpet beetle breeding sites, since wasp skins provide a suitable food source.

Carpet beetle larvae are carrot-shaped with tail bristles. Black carpet beetle larvae may grow to be one half inch long, are dark yellow to brown and have long tail bristles. Other carpet beetle larvae are generally about one fourth of an inch long, stubby and are covered with dark bristles. Carpet beetle larvae may crawl from place to place and may be found on items on which they do not feed. Unlike the adult beetles, the larvae avoid light and prefer to live in undisturbed places. Larvae are often attracted to soiled fabrics (such as clothing soiled with body oil or perspiration) and cracks and crevices where lint, food crumbs or dead insects accumulate. Carpet beetle larvae may also feed on stored cereals, dry pet food and wool piano felts.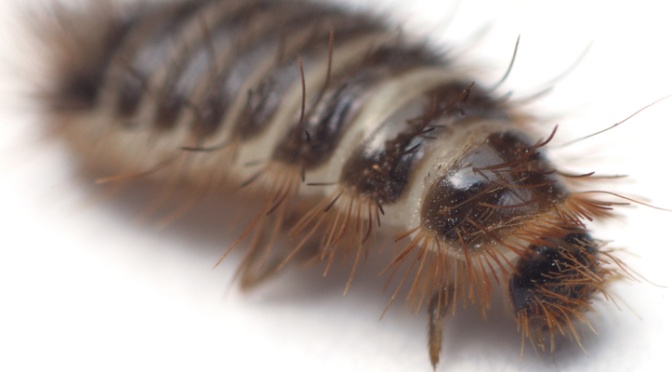 Good house keeping and regularly vacuuming your carpets will reduce VCB s numbers. Although there are product you can purchase from us, or hardware stores. to try and relieve you of the varied carpet beetle infestation. Removing VCB s entire infestation from your home or place of business may require more vigorous approach with professional help and treatment.